The past week has brought extreme winter weather across the United States, from the West Coast to the East. Though all eyes have seemingly been on Texas (and for good reason, we will focus on the Lonestar State later in this blog), we also want to highlight some of the other regions of the country that have been struggling through the cold, wintry not-so-wonderland weather this week.
Residents in Oregon experienced the largest number of power outages in state history when over 330,000 Oregonians lost power due to an ice storm that brought over an inch of ice accumulation over Valentine's Day weekend. Portland (PDX) measured their largest two-day snowfall totals in nearly five decades (9.4 inches – the most since 1968!) Seattle broke the same record with 11.1 inches, the largest two-day snowfall since 1972! At the Space Needle in Seattle, they were using the elevator to take the shoveled out snow from the elevator (true story! See the drifts in the picture below). Further inland, Boise, Idaho measured 9.9 inches of snowfall over two days – the highest recorded since 1996! Across the country, some North Carolinians and Virginians were in a similar state, with over 331,000 outages between the two states.
Regardless if you lived on the East Coast, West Coast, or somewhere in between (minus Florida….we were all a little jealous of those temperatures!), the weather has been COLD the last week. At least 2400 preliminary cold temperature records, including cold maximums and minimums, were broken or tied at longer-term sites (75+ years of data) from February 12-16. Data is still coming in, and that number will likely grow in the coming days. With temperatures 40-50 degrees below average across the Heartland, approximately 30% of available U.S. sites set cold maximum records, and about 20% set minimum records.
On Valentine's Day, we had the largest area of the continental United States covered by issued* Winter Storm Warnings in at least 16 years (*indicating that areas of Winter Storm Warnings were counted if they had been issued, even if not necessarily in effect yet). Valentine's Day brought record snow to Texas as well with Abilene recording their largest snow storm on record (14.8 inches), San Angelo measuring their largest calendar day snowfall on record (10.1 inches), and Austin receiving their largest two-day snowfall (6.4 inches) in over 70 years (since 1949)! By midnight, February 16, 73% of the continental United States was covered in snow – the largest percentage in at least 18 years (possibly longer, as that database only goes back to 2003).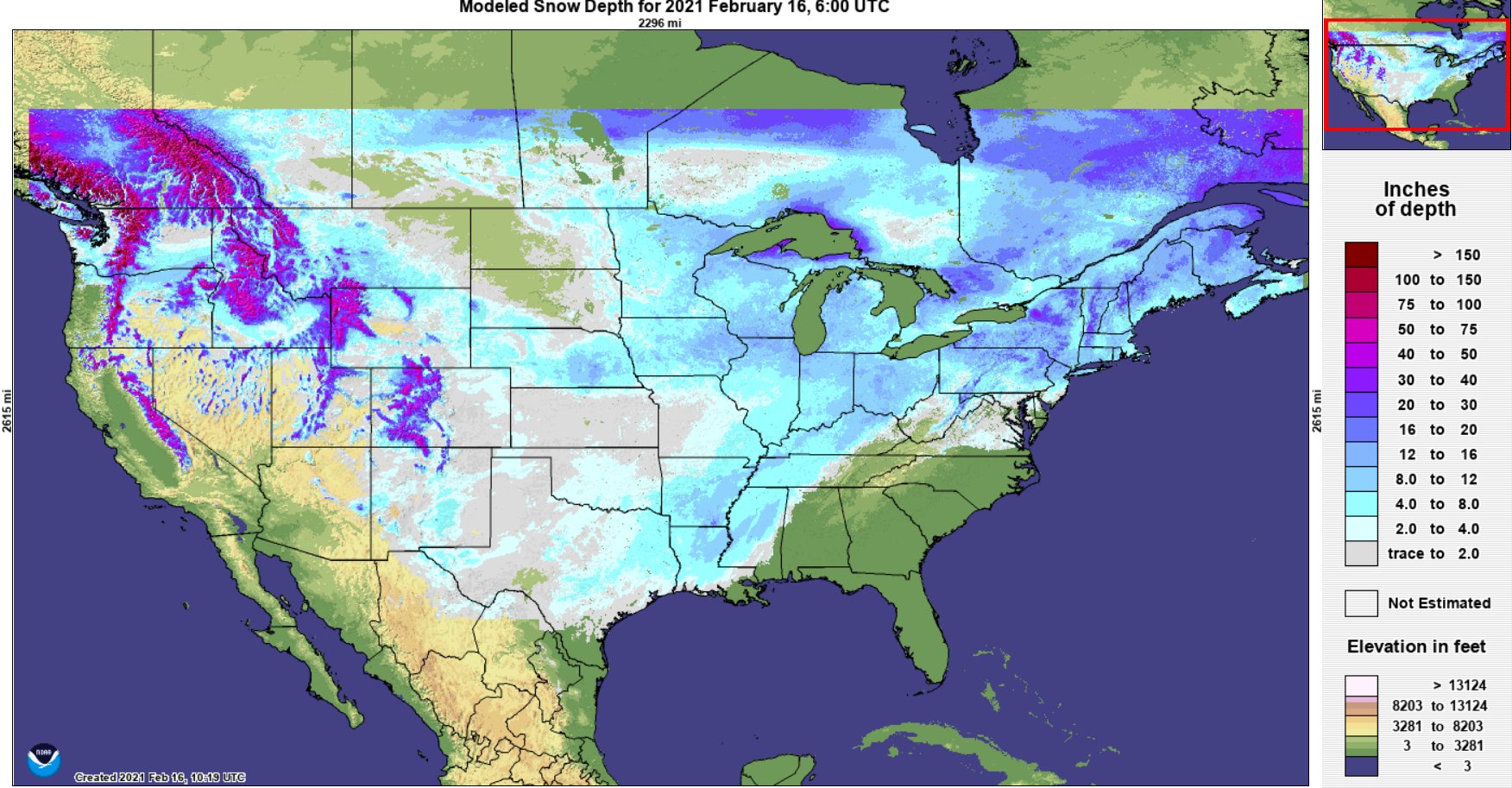 At 8:00 PM CST on February 15, over 4.3 million Texans were without, nearly 310 thousand Oregonians were without power, and outages were reported in 10 other states (LA, VA, KY, WV, MS, NJ, TN, AL, OH, and NC) leading to a nationwide total of over 5.1 million Americans without power! Less than 12 hours later, another half million lost power, this time with Oklahoma joining the club.
Fortunately for many, power was able to be restored relatively quickly. By 4:30 PM on February 17, the nationwide total had decreased by approximately 2 million! Of the remaining 3.1 million without power, 2.6 million of those lived in Texas (with outages remaining in OR, LA, KY, WV, MS, and VA). And now, at the time of this writing (10:56 AM CT on February 19), the number of power outages is under 600 thousand, with the largest outages in Texas and Mississippi. While power has been restored to many, nearly half of the residents still don't have clean, running water.
The massive outages in Texas have garnered national attention – and for good reason. People are suffering, properties are being damaged or destroyed by water breaks, and worst of all, people are dying (34 deaths so far across the country, with 20 of those in Texas). Many have been asking questions, such as "Why was Texas so devastated by this? How could their power and water supplies be so damaged? It wasn't that bad!" Some have questioned if this was the result of relying on renewable energy. Though these are fair questions if you are unfamiliar with the climate of Texas, I strongly feel that the questions we need to be focusing on right now are, "Who can I help?" and "How can I help?" As such, resources to help those in need will be linked at the close of the article.
Reiterating the statistics above, this was truly a historic event for the state of Texas, a southern state that doesn't get this cold…as evidenced by the many records that were broken. Furthermore, while Texas does rely on renewable energy, the Electric Reliability Council of Texas (ERCOT) has noted that all types of facilities, not just the ones that produce renewable energy, were affected by the statewide outages. Though frozen wind turbines were a factor with the anomalous cold, wind shutdowns accounted for less than 13% of the outages. Additionally, Texas relies solely on its own grid (unlike the rest of the country), so the rest of the country was unable to help with the power supply
Fortunately, a much quieter weather pattern is in store over the next few days. The current system that is bringing snow and freezing rain to the Northeast and northern Mid-Atlantic, as well as rain and thunderstorms to the Southeast will taper off today while lingering snow showers will continue over much of the interior Northeast and New England through Saturday. A general area of 1-3 inches of additional snowfall is possible for the Northeast today, while places downwind of the Lower Great Lakes may receive between 4-8 inches of snow. Freezing rain impacts will be minimal. An anomalously cold week across the Southern Plains will begin to come to an end this weekend as an approaching area of low pressure pulls warmer air northward out ahead of it on Saturday. Before that, widespread low temperature records may be broken tonight over parts of eastern Texas and the Lower Mississippi Valley as high pressure shifts into the eastern half of the country. Hard Freeze warnings are in effect for much of southern/eastern Texas, and the Lower Mississippi Valley. Temperatures will remain well below average for much of the central US today and much of tomorrow.
How to Help Texas
Donate to a mutual aid fund. The Venmo handles of some in the region include: @austinmutualaid, @austinmutualaidhotels, @feedthepeopledallas, and @mutualaidhou. When giving this way, please be sure to check the spelling carefully to avoid fake and copycat fundraisers set up by scammers.
You can donate food, clothing, water, and other necessary items to a local Salvation Army if you are local.
Mercy Chefs is providing hot meals, clean drinking water and USDA Farmers to Families grocery boxes in the Dallas/Fort Worth area.
Dallas-area organizations Austin Street Center, OurCalling, The Stewpot, Union Gospel Mission, and Oak Lawn United Methodist Church are pooling funds to help pay for temporary shelter as well as Covid-19 rapid tests for those in need.
Lucille's 1913 Community Kitchen is preparing and distributing meals in the Houston area.
The Coalition for the Homeless of Houston/Harris County is supporting warming centers throughout Houston and Harris County.
Austin Pets Alive! is working to keep pets across Texas warm and safe during the freezing conditions. The group needs heating pads, Styrofoam coolers, dog beds, heat lamps and monetary donations.