This week, we are kicking off a four-part series as we approach the start of hurricane season in the Atlantic on June 1. Today, we will be looking at the 'big picture', what a 'typical' hurricane season looks like, and what the seasonal forecast is for this coming season, which runs from June through November.
Did you ever wonder why the official season is defined as June 1 through November 1? Well, this is a great example of 'following the numbers'. The chart below from the National Hurricane Center shows the number of storms per 100 years for the North Atlantic basin. The vast majority of all named storms (including both hurricanes and tropical storms, which are weaker and thus more frequently observed) occur during that time frame. So, even though it is possible to have storms occur at any time of the year, it is much less likely due to several factors, including stronger jet stream winds and cooler ocean waters. This is different than the Pacific Ocean, where conditions remain favorable for formation during most of the year.
This map shows the tracks of all storms in the Atlantic since 1851 and in the Pacific since 1949. Even considering the huge number of storms, it is possible to see that many storms follow a clockwise path from the west coast of Africa to the Caribbean Sea, and then either into the Gulf of Mexico or up along the Eastern Seaboard. As with the seasonal patterns, there are of course outliers, but there are patterns that can be identified by looking at a vast number of storms collectively. If we look at the number of storms per year, we can see that there is a lot of year-to-year variability: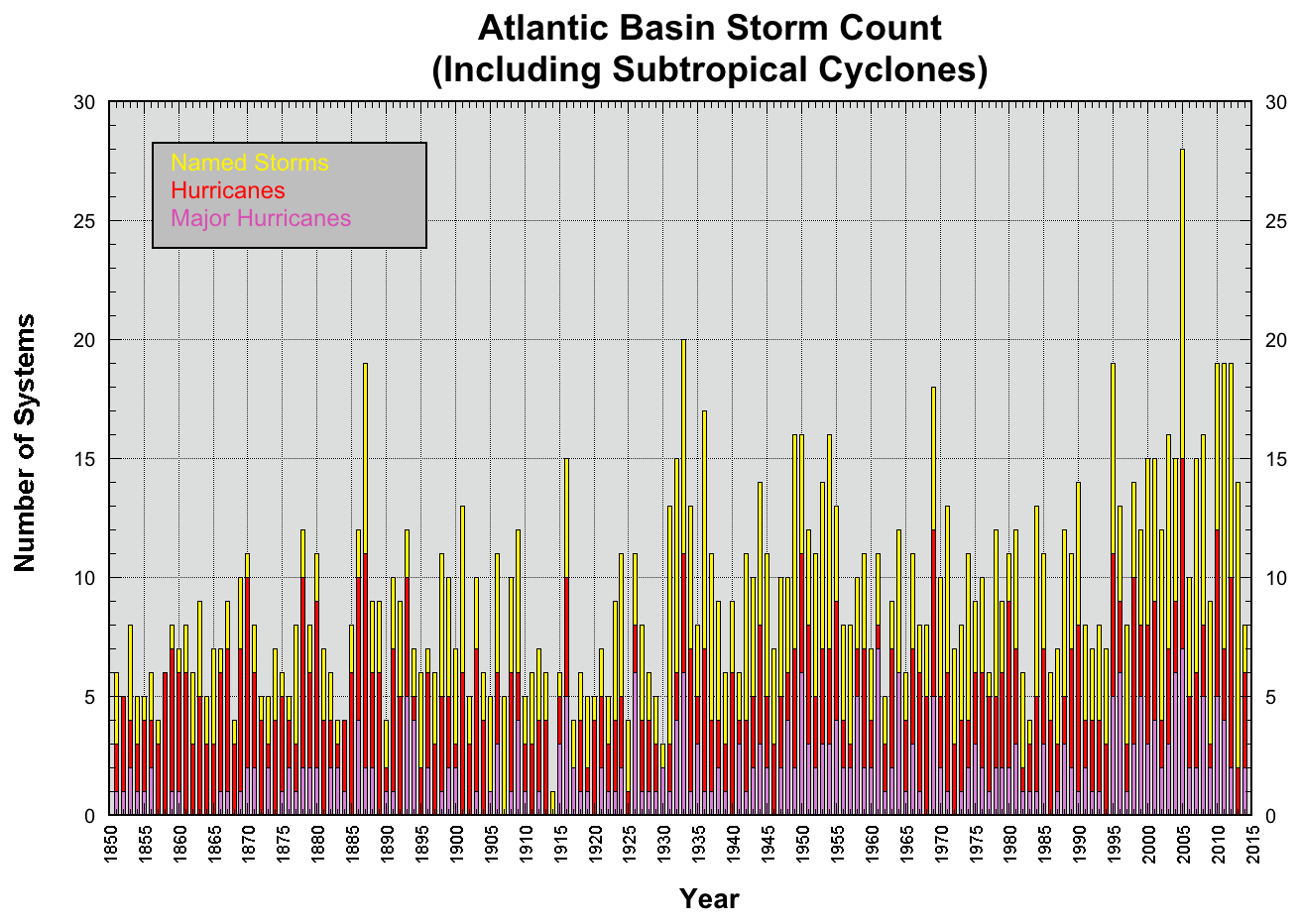 One of the ways we can understand how common or uncommon an event is is to look at what is known as 'return period'. This statistic describes the expected average frequency with which an event, such as a flood, heavy rainfall or snowstorm, or hurricane, occurs. For example, NHC notes that 'a return period of 20 years for a major hurricane (Category 3 or above) means that on average during the previous 100 years, a storm of that magnitude occurred within 58 miles of that location about five times'. Return periods can be deceiving in some ways, because often it is possible to have several very rare events (say, 100-year return period) occur in a short time period because weather patterns are favorable for those very rare events to occur.
The return period for hurricanes passing within 58 miles (50 nm) from locations along the East Coast are shown below.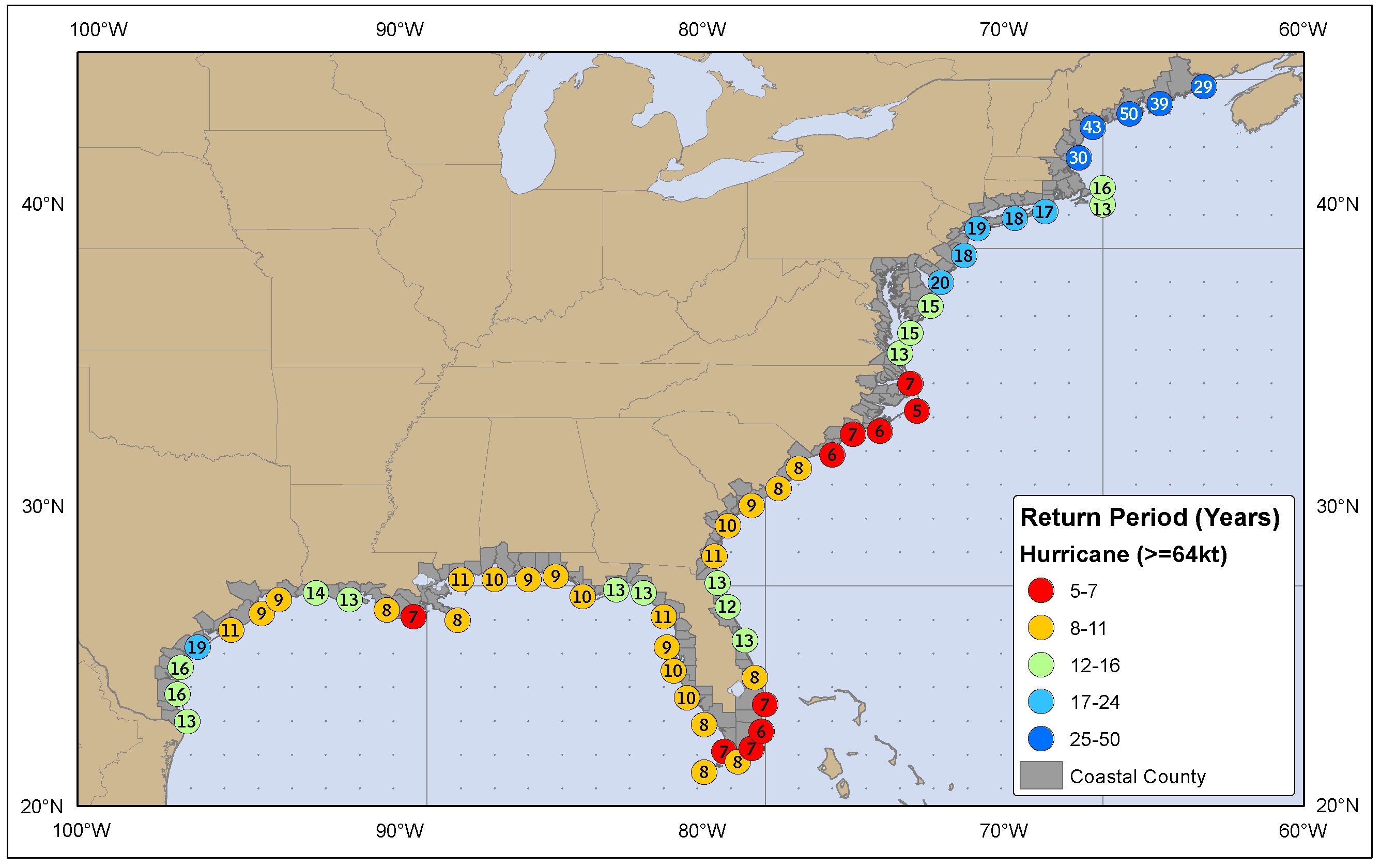 Note that it is fairly common for hurricanes to be located near the Southeast coast and the Gulf of Mexico (return periods of 7 years or less), while it is less common for those storms to be located along the northeast coast (return periods of 20-50 years). Given what we know about the preferred tracks (see map above) this makes sense.
Interestingly, coastal geography plays a role too- where the coastline juts out (south Florida, the Outer Banks of North Carolina), it is more common for hurricanes to be found.
Looking at return periods for major hurricanes, we can see that these storms are much less common, and tend to have return periods on the order of a few decades (20-50 years or so), but that the same pattern appears related to preferred locations.
One IMPORTANT thing to note: these statistics just refer to the freqency of storms being located within 58 miles of the coast…but that only means the location of the storm center. In reality, storm impacts can occur many many miles away from the center point of any particular storm (think of Tropical Storm Irene in 2011 as an example, where disastrous flooding occurred as far north as Vermont).
You may wonder (and would be right to do so!) why it seems like there have been so many high impact hurricanes in the news in recent years. Are there really more frequent storms occurring? Are all of these records really being broken? Is it just that more people are living and developing along vulnerable coastal areas? Are changing sea levels creating areas of vulnerability which didn't exist decades ago? The answer to all of these questions is…yes! There are many factors (including non-meteorological factors) which determine how much impact a storm causes, and the final cost of the damage. Some of these include: storm track, storm intensity, population, social vulnerability, and many others. However, we do know that tropical ocean temperatures in the Atlantic have been increasing over time, and the 'fuel' for hurricane development is warm ocean water. As a result, there has been a measurable increase in the percentage of storms each year which become major hurricanes (see below). While this doesn't mean that all of these stronger storms are making landfall, when they do approach populated coastlines, the potential for costly damage and loss of life.
So what does the upcoming 2021 hurricane season look like? Colorado State University issues seasonal hurricane forecasts prior to the start of each season, and updates them midway through as well. These seasonal forecasts are based on projectioins of long-term atmospheric and oceanic patterns and indices, as many seasonal forecasts are.
As of early April, an above average number of named storms and major hurricanes is expected.
Stay tuned to our upcoming posts in the coming weeks as we discuss hurricane preparedness and safety, and other interesting and useful information!